Owning a business in Ho Chi Minh city and surrounding areas is quite challenging. Whatever industry you are in, there is a lot of competition, and you need to attract as many potential customers as possible. Of course, having a strong internet presence is crucial, but you also want to attract individuals who are merely strolling or driving by.
Too many businesses nowadays do not place enough emphasis on the aesthetics of their business and the exterior appearance of the building. Would you want to patronize a company that appears to have been out of business for years and has a sign that is holding on by a thread? Here at An Phat Signs, we have exactly what you need to make an impact: custom metal signs.
We can provide you with a variety of metal signage, including but not limited to:
LED backlit metal signs
Aluminium storefront signs
Illuminated metal signs
Metal logo signs
and many other types of metal signs
These are just a handful of the services we provide at An Phat Signs. We feel that having the right signage for your business is critical, which is why we are glad to give you a choice of alternatives here. If you want to make an impression and ensure that people won't be able to overlook your business, LED metal signs will undoubtedly make you stand out.
It's difficult to overlook something that is right in front of you and done in a professional and stylish manner. That is why we are here, therefore it is certainly worth looking into.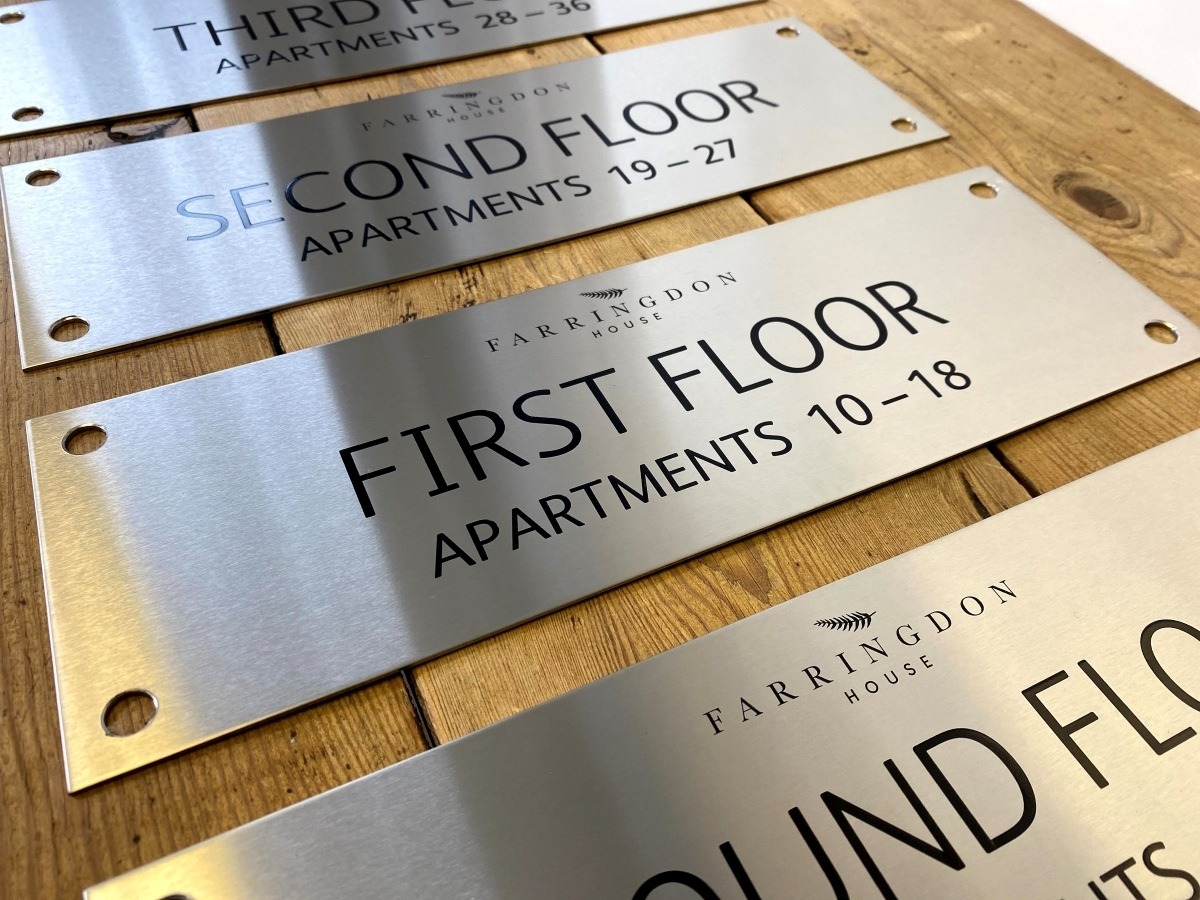 Why should You Use Metal Signs
There are several reasons why someone might wish to utilize metal signage. One of them is that they are exceptionally long-lasting. Some signs will need to be replaced after a few years since they aren't resistant to the weather. They might also have faded, fractured, or any number of other issues. When you pick metal, you won't have to worry about this as much. Metal is a highly robust material, meaning that you will get years out of them before having to replace them.
Not only that, but metal signs are extremely adaptable. They are available in a variety of colors, patterns, and styles. You may also select the thickness that you want, ensuring that you get precisely what you need. If you want to go for something less daring, choose a thinner piece of metal. Because we offer custom cut metal signs, the decision is totally up to our customers.
Personalizing Your Metal Signs
We understand that each business will want their custom metal signs to be at least slightly different from what they have seen previously. We are happy to be able to provide all of our customers with the one-of-a-kind signage they require, giving their business that extra something. Let us know precisely what you want, and we'll set to work designing the ideal sign for your company.
It's possible that you want a specific color and style for your metal signs and something completely different for another part of your business's exterior. We can do that for you, as well as anything else you require, as long as you are specific about your needs for each piece.
An Phat Signs – One of the Best Metal Custom Signs in Ho Chi Minh city
An Phat Signs is not here to deliver anything less than perfection to our clients. We take your ideas and make them a reality, whether it's metal channel letter signs, metal pylon signs, or a simple sign to hang over your business's door. Your aim is to attract foot traffic, and we are delighted that you are considering hiring us to assist you do that.
We work hard to ensure that each client receives exactly what they want from us, and we collaborate closely with everyone involved to make that happen. Communication is essential when developing signs, which is why we make our lines of communication available to you. We need to know about any changes, and if there are any limitations on what we can do, we will be forthright and honest with you.
Many Service We Offer
We are pleased to provide you with a variety of services related to metal signs and all sign kinds. For example, we can provide metal sign manufacturing, custom laser metal signs, unique outdoor metal signs, and a variety of other services. We will be there for you from start to end, and we want to be your one-stop shop for all of your metal sign needs. We will not start a job and then ask you to locate another firm to finish it. We see all of our projects through to completion, regardless of how long it takes.
Contact us now
If you'd like to learn more about the metal signs we provide, or if you're ready to get started on your next project, please contact us at An Phat Signs. You can look at some of our recent work to get a fair idea of what we provide, and then contact us by phone, Facebook, Zalo or email to inquire. We eagerly await your response.
Our Hotline and Zalo: 05 66 76 76 79
Our Facebook page: An Phat Advertising
Our Email: banghieuanphat@gmail.com